Fashion Trends Summer 2021
As a Welcome Magazine exclusive, Nadia Tschenett will present current trends directly from the international runways.
After six years in the fashion department of the German ELLE magazine, the Merano native has been working at LOEWS, the leading PR agency in the haute couture business in Germany. As Unit Director, she headed the fashion budget of Burberry and Jil Sander. Since her return to South Tyrol, Nadia works as a consultant to the well-known retailer Oberrauch Zitt, the DIMITRI brand and the new talent Internodiciotto. Her activity focusses on the organization of events, styling and the creation of professional photo shoots.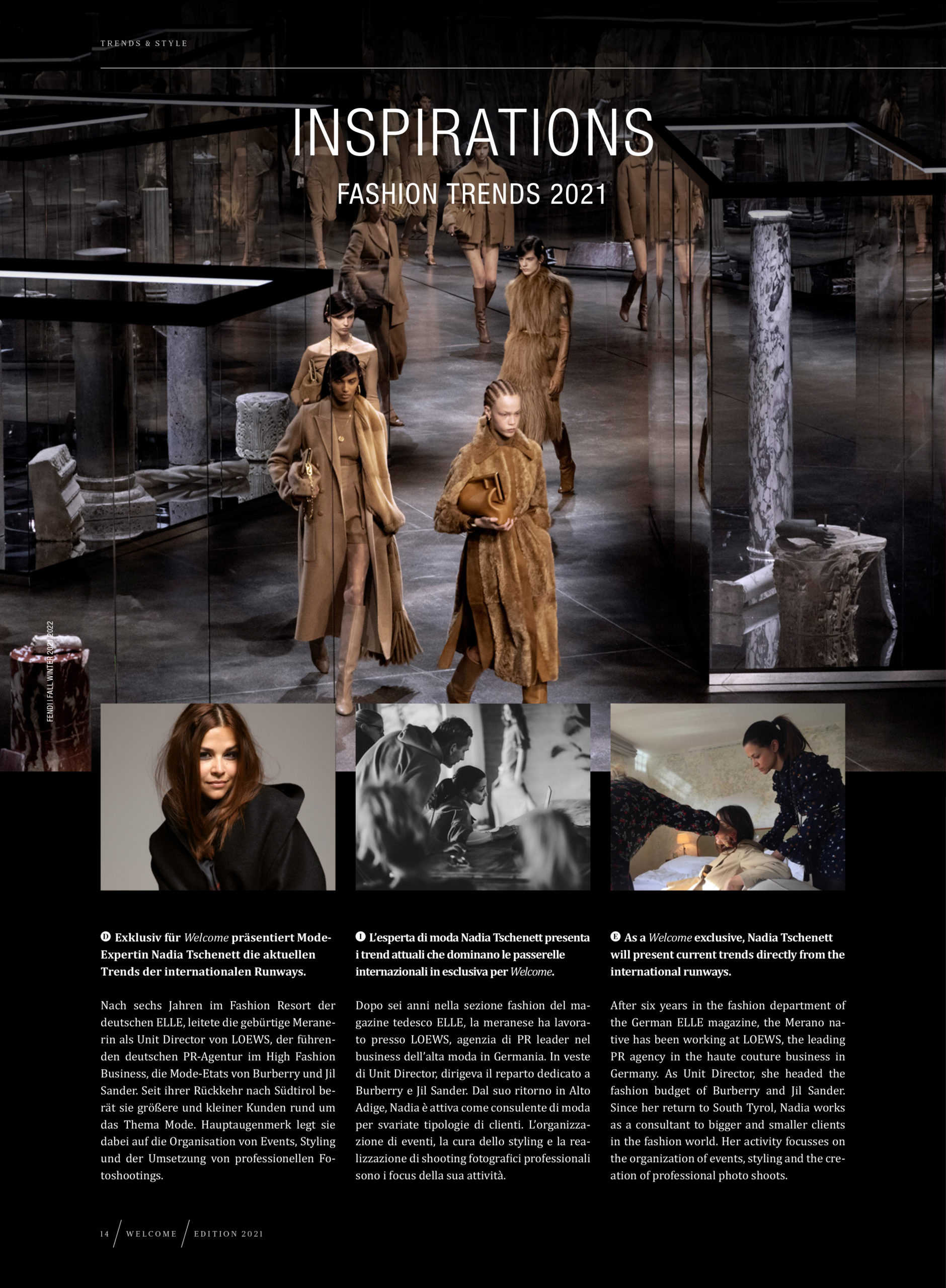 C O L O R O F N A T U R E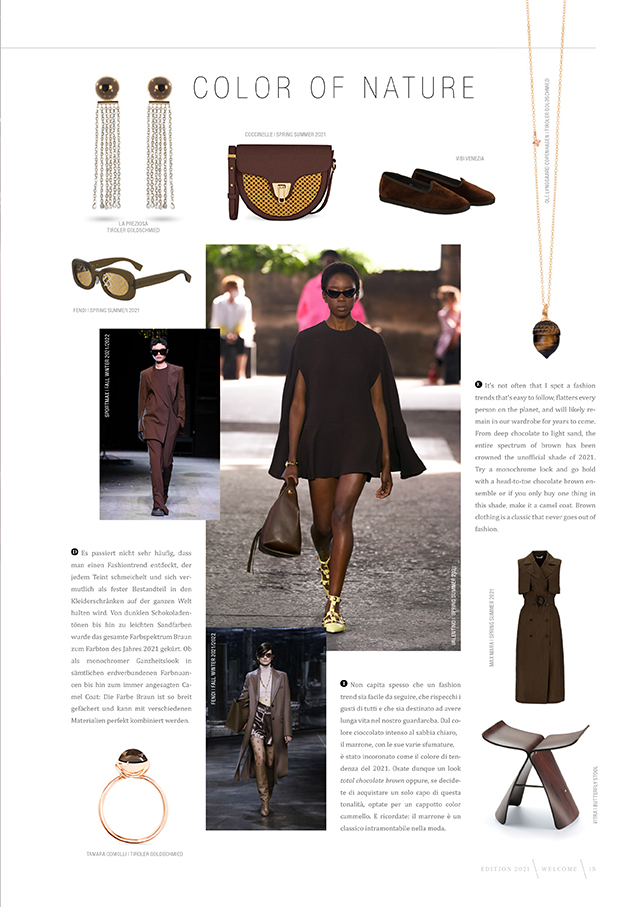 It's not often that I spot a fashion trends that's easy to follow, flatters every person on the planet, and will likely remain in our wardrobe for years to come. From deep chocolate to light sand, the entire spectrum of brown has been crowned the unofficial shade of 2021. Try a monochrome look and go bold with a head-to-toe chocolate brown ensemble or if you only buy one thing in this shade, make it a camel coat. Brown clothing is a classic that never goes out of fashion.
P O P OF C O L O R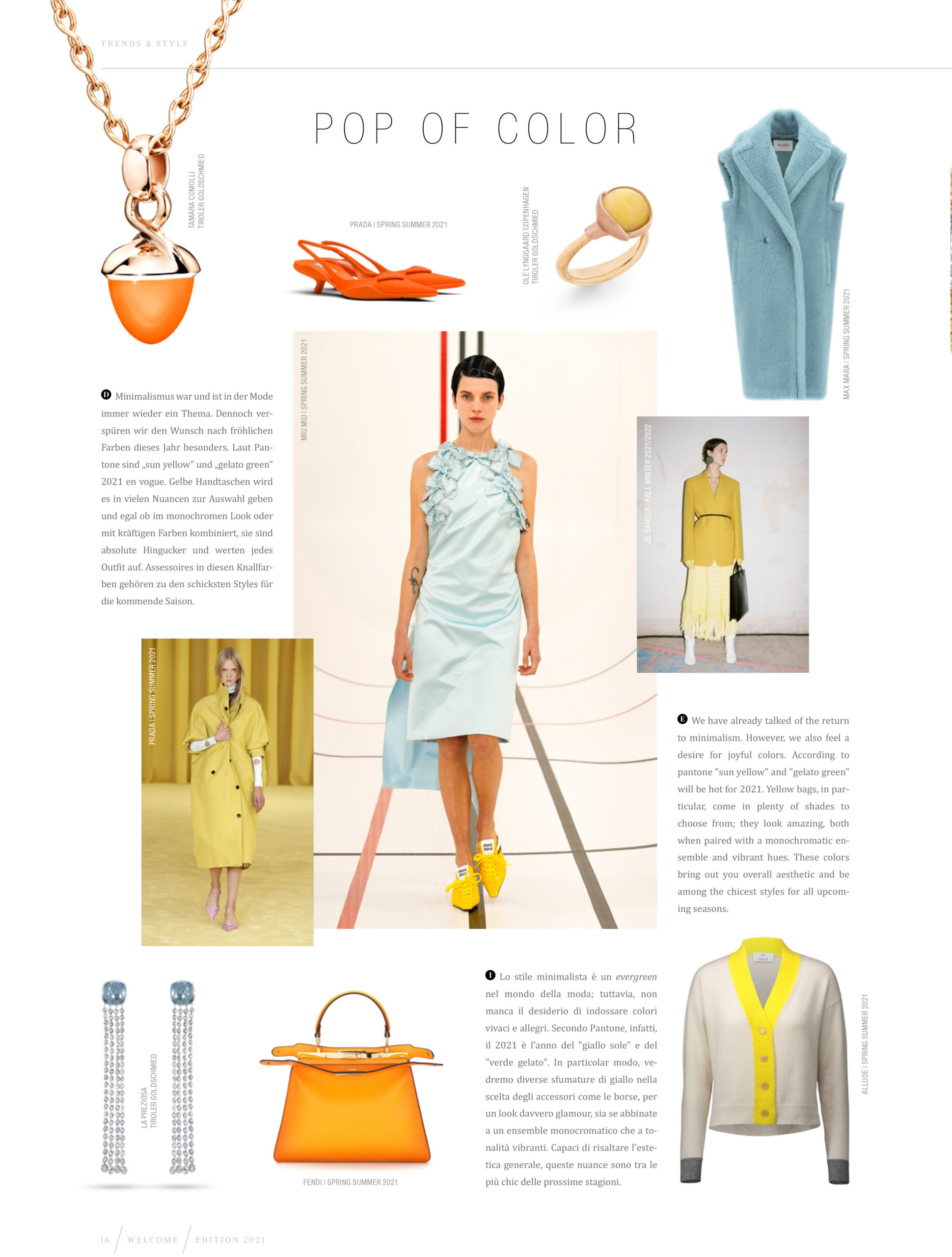 We have already talked of the return to minimalism. However, we also feel a desire for joyful colors. According to pantone "sun yellow" and "gelato green" will be hot for 2021. Yellow bags, in particular, come in plenty of shades to choose from; they look amazing, both when paired with a monochromatic ensemble and vibrant hues. These colors bring out you overall aesthetic and be among the chicest styles for all upcoming seasons.
A L L W H I T E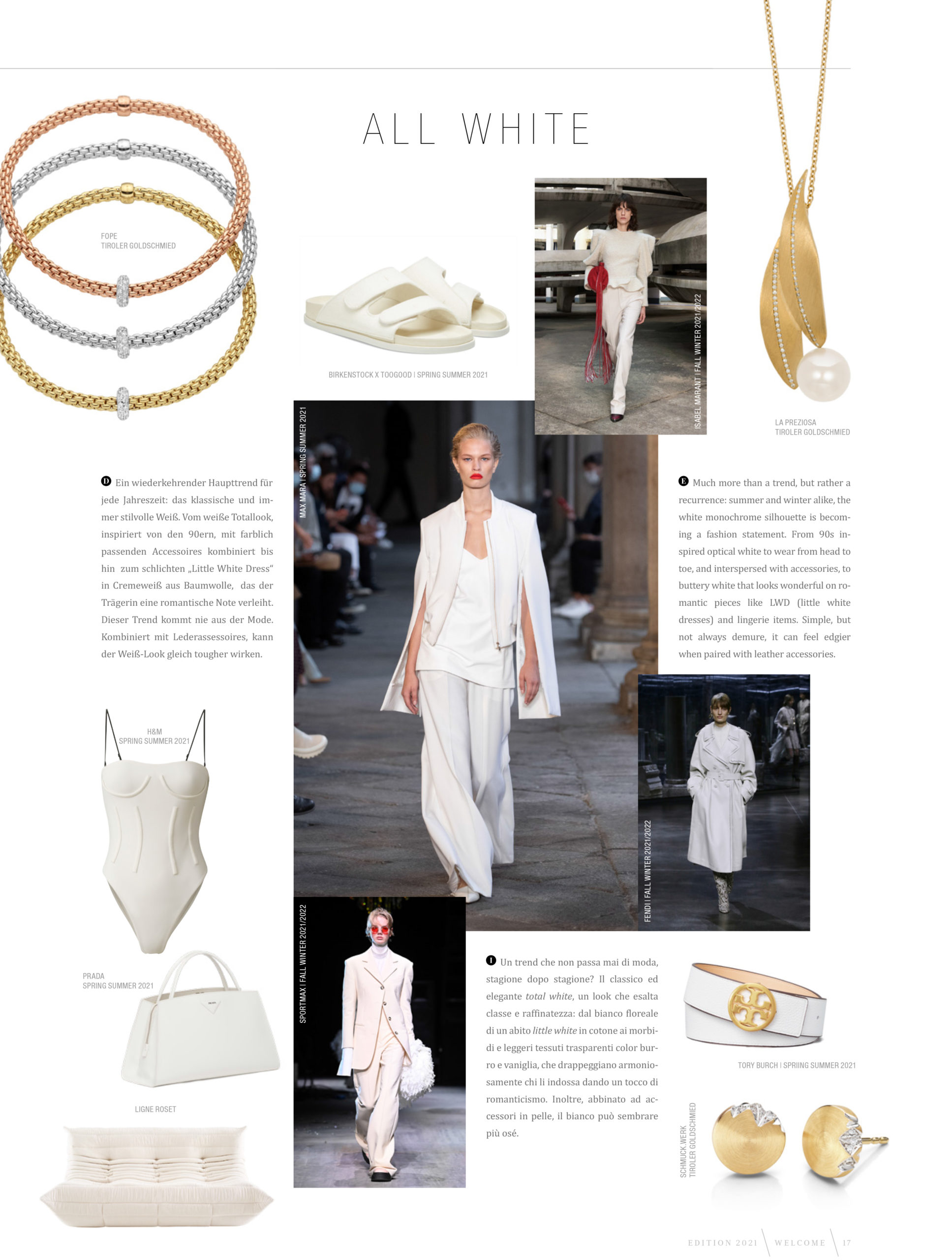 Much more than a trend, but rather a recurrence: summer and winter alike, the white monochrome silhouette is becoming a fashion statement. From 90s inspired optical white to wear from head to toe, and interspersed with accessories, to buttery white that looks wonderful on romantic pieces like LWD (little white dresses) and lingerie items. Simple, but not always demure, it can feel edgier when paired with leather accessories.
Here you can read the brand new edition of the Welcome-Magazin. Happy reading!
Visit our stores in Dorf Tirol, Schenna and Meran in South Tyrol or browse our online store!
Trendy jewelry from our jewelry blog by jewellery blogger Manuela Gamper.
Register for our newsletter for valuable tips and trends and receive a 10% off promo code for your next purchase in our online store.