Christmas gifts – Christmas time.
It won't be long before this beloved time of the year is finally here.
Have you thought of everything? Christmas tree and Christmas decorations, a Christmas dinner for your family, gifts, a festive dress and the matching jewelry?
And hopefully you have not forgotten yourself and written your very own Christmas gift list. Not yet?
Allow us to provide you with a few Christmas gift ideas. Gorgeous gemstone jewelry by Tamara Comolli and Ole Lynggaard Copenhagen bring color and glamor to your home. Rosegold-plated silver jewelry by Pesavento reminds us of the cozy warmth of the crackling wood in the fireplace. The wonderful red hues of corals evoke the perfect Christmas atmosphere. The cable-stitch patterns by Fope cling lovingly to your skin like a soft cashmere sweater. The Alpine ring by Schmuckwerk makes us dream of snowy mountain peaks and the artful gold jewelry by Marco Bicego provides some classy sparkle to our homes. We are ready for Christmas!
Christmas time – a moment of joy and love.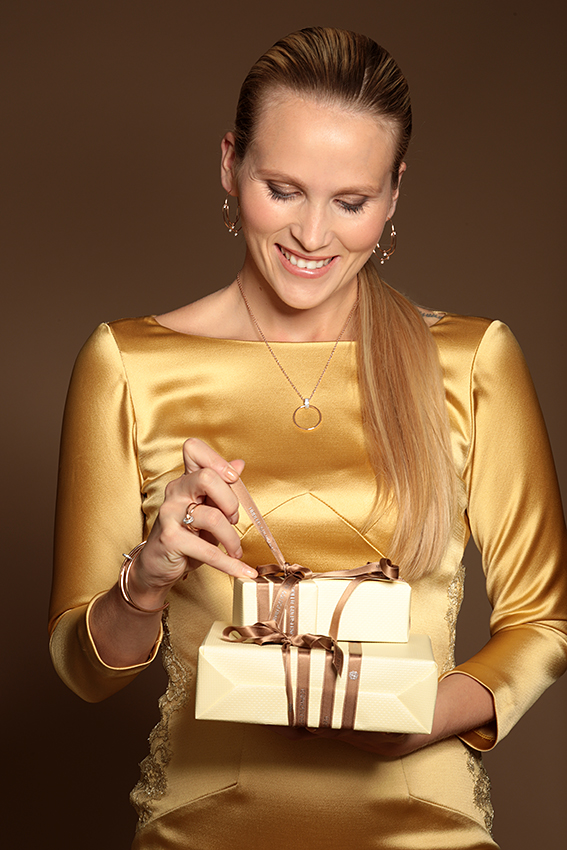 LA PREZIOSA is our very own jewelry line. Handcrafted with skill and dedication. These are our Allegretto bracelets, chains and rings.
Photo: Manuela Prossliner
Video: #samhbr – Samuel Heuberger Reichert
Model: #Sofi_margherite, Sarah Hofer
Hair: Verena Mitterer, Ego Hair Design, Armin Wenter Salon Valentino
Make-up: Helga Wenter, Katharina Pöder
Location: Kunsthalle West
Instead of garlands we hang up some versatile jewelry by LA PREZIOSA Pompei.
Snowy mountain peaks and glistening snow – this is Christmas magic! The Alpine Collection Cliff by Schmuckwerk brings the mountains right into our homes.
Feel like a true ice princess – and wear some exquisite pieces by Tamara Comolli.
Personalized Christmas gifts. A personal touch for our nearest and dearest.
Personalized jewelry for those special men in our lives.
Modern splendor. Jewelry by Pesavento would even cut a fine figure on the Christmas tree.
Fope-jewelry. Always a perfect choice beneath the Christmas tree.
Marco Bicego jewelry makes your home sparkle.
Oh Christmas tree, oh Christmas tree, how lovely are your branches! Not only green in summer's heat, but also winter's snow and sleet. Green gemstone jewelry by Ole Lynggaard Copenhagen is an all-season favorite.
Gift ideas for men.

A wonderful selection for the special men in our lives, from handcrafted bracelets to cufflinks.
Powerful men's jewelry by Meister made from special materials like gold, titanium, platinum or even meteorite – a masculine creation.
Have a wonderful Christmas time!
Trendy jewelry from our jewelry blog by jewellery blogger Manuela Gamper.
Visit our stores in Dorf Tirol, Schenna, Meran, Quellenhof Luxury Resort in South Tyrol and Rottach-Egern at Tegernsee in Germany or browse our online store! Register for our newsletter for valuable tips and trends and receive a 10% off promo code for your next purchase in our online store.